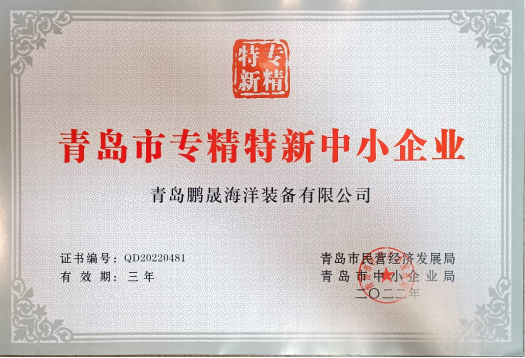 On June 20, 2022, Qingdao issued a notice announcing the list of the first batch of "specialized and new" SMEs in Qingdao in 2022, and Qingdao Pengsheng Marine Equipment Co., Ltd. was selected.
When presiding over the fifth meeting of the Central Committee of Finance and Economics, the General Secretary pointed out that we should give full play to the spirit of entrepreneurship and craftsmanship and cultivate a number of "specialized and innovative" small and medium-sized enterprises. The selection of "specialized and special new" SMEs in Qingdao has comprehensively examined the conditions of enterprises' operation, technology and market prospects. The SMEs that have obtained the "specialized and special new" certification have the characteristics of strong innovation ability and core technology.
In recent years, Qingdao Pengsheng Marine Equipment Co., Ltd. has adhered to the route of refinement, specialization, specialization and novelty in the field of marine unmanned intelligent equipment, and has continued to focus on its main business. Its competitiveness in the market segment and industry has been increasingly improved, and its high-quality development momentum has become increasingly prominent.